Congratulation Officer Joel Davis on More than Thirty Years in Law Enforcement!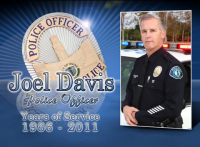 11/22/2011
On Thursday, November 10, 2011, friends and family filled the briefing room to say goodbye to Officer Joel Davis who is retiring after 25 years of service. Officer Davis began his career in law enforcement at the Grand Junction Colorado Police Department in 1980. Later that year he moved to California and took a job as a San Marino Police Officer.
In 1986, Officer Davis transferred to the Irvine Police Department where he served in many positions including Patrol Officer, Field Training Officer, the Spectrum Detail and as the Department's Training Coordinator.
Officer Davis is a relentless student, earning a Bachelor's degree from California State University, Los Angeles, a Master's Degree from the University of Southern California, and attaining numerous Peace Officer Standards and Training (POST) certifications. He has taught arrest and control technics to police officers both at the Rio Hondo Academy and within the Department for the past 20 years. Officer Davis holds the title, Master Instructor; a POST certification earned only after a rigorous training program and demonstrated excellence as an instructor.
In addition to his regular duties, Officer Davis often took time to instruct in the Department's Community Police Academy, was a member of the Department Honor Guard and was a member of the Baker to Vegas, Challenge Cup Relay team for 10 years.
In 1998, Officer Davis earned his first of two Meritorious Service Awards, the second was in 2006. He also earned two Unit commendations; one in 2002 as a member of the Irvine Spectrum Team and the other in 2007 as a member of the Office of Professional Development. Additionally, he earned a Community Policing Award for his time as a member of the Honor Guard.
Although he is leaving Irvine, Officer Davis will no doubt continue to play an active and positive role in law enforcement training.
Congratulations to Officer Joel Davis and his family for an exemplary career!
Click more to view a PDF of photos from Officer Davis' retirement celebration.